Healthy Together 5210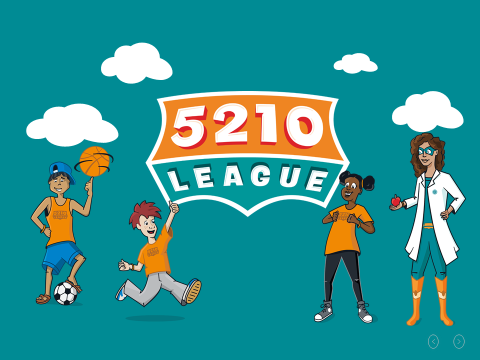 5210 Message
Healthy Together 5210 is a policy, systems, and environmental change program designed to elicit school-wide changes that impact every child towards healthier living. The 5210 program is evidence-based, easy to use, simply designed to complement and enhance existing wellness efforts.
What does 5210 stand for?
5 or more servings of fruits and vegetables per day.
2 hours or less of recreational screen time per day.
1 hour or more of physical activity per day.
0 sugar-sweetened beverages.
As a school, you choose the strategies you'd like to see implemented each year and we help support your initiatives through virtual/in-person representation, parent and student engagement, monthly follow ups, ad hoc support, and public promotion of your efforts through websites, newsletters, and the local newspaper. As Healthy Together 5210 continues to grow, we are looking for new schools to join our 2022-2023 cohort! Contact Derek Wilson (This email address is being protected from spambots. You need JavaScript enabled to view it.) if you are interested in joining.
Current Locations
W.R. Odell Primary
Fred L. Wilson Elem.
Forest Park Elem.
Jackson Park Elem.
Shady Brook Elem.
Pitts School Road Elem.
Rocky River Elem.
G.W. Carver Elem.
Bethel Elem.
North Kannapolis Elem.
Cabarrus County Active Living and Parks
Big Brothers, Big Sisters
YMCA West Cabarru
A.T. Allen Elem.
Patriots Elem.
Harrisburg Elem.
Mt. Pleasant Elem.
Mt. Pleasant Middle
Hickory Ridge Elem.
Boys and Girls Club
Handouts and Materials
School Location Registration and Commitment Form
Out of School Location Registration and Commitment Form
Addressing Sugar-Sweetened Beverage Consumption in North Carolina
Video Resources
To access Childhood Obesity and Wellness Data click here.